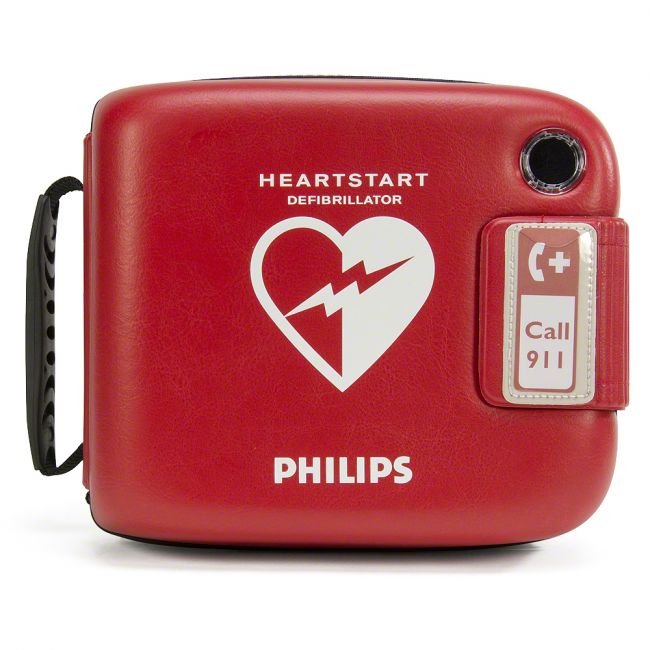 he Philips HeartStart FRx Defibrillator is designed to be easy to use, rugged and reliable for those who get there first. On the scene with law enforcement, on the field with student athletes, or on the job with employees, the FRx Defibrillator treats sudden cardiac arrest (SCA) from ventricular fibrillation in environments and conditions too demanding for many other defibrillators.
The HeartStart FRx Defibrillator is:
Easy to use. Built on a platform of proven ease-of-use, the FRx features CPR Coaching and intuitive icon-driven operation. Calm, clear voice instructions are tailored to the responder's actions, providing guidance during the resuscitation of an SCA victim.
Rugged. Designed for real-world use, the FRx was built to surpass rigorous testing requirements: jetting water, loads up to 500 pounds and a one-meter drop onto concrete.
Reliable. The HeartStart FRx Defibrillator is powered by a long-life (four-year) battery. The device conducts automated daily, weekly and monthly self-tests including pads readiness. The blinking green "Ready" light is your assurance that the FRx has passed its last self-test and is ready for use.
Safe. The HeartStart FRx is designed to deliver a shock only if the patient's heart rhythm is shockable. Additionally, Philips' effective yet gentle SMART Biphasic wave- form is the industry's most proven therapy.